Highest Quality Parts and Manufacturing Processes.
All Stainless Steel Construction.
All models feature optional on board solvent purification systems that can be custom designed by our on-staff Chemical Engineer for your solvent selection and the chemical nature of the contaminant(s) you wish to remove.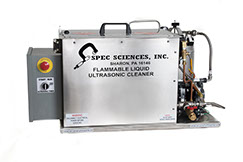 BENCH TOP MODEL
All of the ultrasonic power densities of our advanced systems yet still fits on a work bench. Optional equipment add-ons and customizations are available so our machine can meet all of your needs.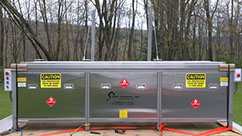 LARGE TANKS
Powerful, effective, safe. This line of cleaners provides multiple integrated ultrasonic transducers combined for safe cleaning of large parts and equipment using flammable liquids.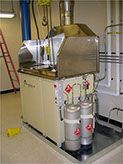 CRANE SUPPORTED
All of the cleaning system features are available with a lip vent in place of the fume hood to allow use of an overhead crane to support large or heavy parts in a safe, efficient manner.
FEATURES
ETL listed standard units for US and Canadian applications. Custom units can be evaluated and certified.
All stainless steel construction for years, if not generations of service.
10 year warranty on ultrasonic transducers
Nitrogen auto purge system for additional fire protection.
Liquid level, over-temperature and nitrogen pressure interlocks.
Remotely located control & power panel senses interlock and switch conditions on machine then provides power through sealed rigid conduit to meet code and safety requirements in lowest cost approach possible
Manually opened, self closing lids for fire protection
OPTIONAL ENHANCEMENTS
Integrated lip vent hood for operator safety plus odor control.
Integrated air driven spark resistant hoist and boom support for heavy lift requirements
Cooling coils to reduce solvent loss and further control odor.
Built in purification system to reduce solvent use and flammable liquid handling in your facility.
ETL evaluation of unit at our facility or at your facility to ensure safe installation.
Cooling jacket for remotely operated recirculating chillers which allows for continuous operation without danger of overheating.
Remotely operated recirculating heaters which allows for use of a smaller amount of heated flammable liquids placed in a smaller container with the part to be cleaned. The tank is then filled with recirculating hot water, and the container placed inside.
Containment pan: holds 120% of the liquid volume to reduce/eliminate spill/leak concerns.
pneumatically operated self-closing lid for ease of operation.
SPEC SCIENCES, INC
2020
All images are property of Spec Sciences, Inc. unless noted otherwise.